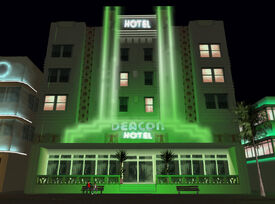 The Deacon Hotel is a hotel in Grand Theft Auto: Vice City located along Ocean Drive, in Ocean Beach, Vice City.
The Deacon Hotel is a thinly disguised replication of the real-life Beacon Hotel in Miami Beach. Unlike its real-life counterpart, the Deacon Hotel's facade color is more vibrant (in comparison to the Beacon Hotel's present white), lending to the idea that the real-life hotel originally assumed a more colorful facade (when research pictures were taken by GTA Vice City developers) before being repainted white. The hotel is otherwise unremarkable, being non-interactive.
The hotel is unnamed in Grand Theft Auto: Vice City Stories.
Ad blocker interference detected!
Wikia is a free-to-use site that makes money from advertising. We have a modified experience for viewers using ad blockers

Wikia is not accessible if you've made further modifications. Remove the custom ad blocker rule(s) and the page will load as expected.