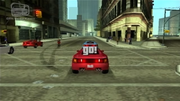 Deimos Dash is a street race in Grand Theft Auto: Liberty City Stories. It becomes available after completion of the mission Grease Sucho for Ma Cipriani. The street race starts by a phone call outside of the Liberty City Memorial Stadium parking lot in the Aspatria district of Staunton Island, which means the mission Driving Mr. Leone needs completion also. For this race you will need a car, while the other racers use Deimos SPs. The race is one lap long, and the reward for 1st place is $1500.
Video Walkthrough
Ad blocker interference detected!
Wikia is a free-to-use site that makes money from advertising. We have a modified experience for viewers using ad blockers

Wikia is not accessible if you've made further modifications. Remove the custom ad blocker rule(s) and the page will load as expected.