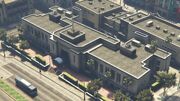 Del Perro City Hall is a municipal building in Los Santos.
Description
The building is located on the corner of North Rockford Drive and Marathon Avenue in Del Perro, and appears to be the council headquarters for the incorporated city of Del Perro within Los Santos.
Like its equivalent in Davis, the building includes the Los Santos coat of arms to validate the incorporation within the greater city of Los Santos.
Influence
The building is based on the real life Santa Monica City Hall in Santa Monica, California.
Gallery
Ad blocker interference detected!
Wikia is a free-to-use site that makes money from advertising. We have a modified experience for viewers using ad blockers

Wikia is not accessible if you've made further modifications. Remove the custom ad blocker rule(s) and the page will load as expected.