This article or section contains insufficient information and is considered as a Stub. You can help GTA Wiki by expanding it as much as you can.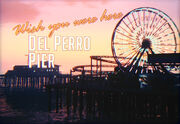 The Del Perro Pier is a pier located in Del Perro, Los Santos. It is modeled after the Santa Monica Pier.
Trivia
Del Perro stands for "The Dog" in Spanish.
Gallery