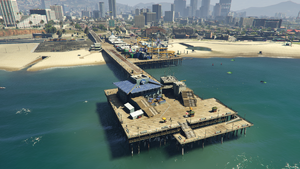 The Del Perro Pier is a world-famous pier located in Del Perro, Los Santos. Del Perro Pier is renowned for its bright, vivid colours that shine at night, giving the surrounding beaches a sort of vibe. It is closely modelled after the Santa Monica Pier.
Del Perro Pier has many attractions that cause tourists to flock there. There's always the beautiful view of the Pacific Ocean along with some telescopes. Then there's the Pleasure Pier amusement park where little children can go to spend their parents' money. At the entrance to the pier, there are several seafood restaurants that are most likely overpriced and designed to con money out of tourists. Either way, Del Perro Pier is a famous landmark that makes Los Santos what it is known for.
Events of GTA V
After Michael De Santa smashes his son's TV, he forces Jimmy to go biking on the beach with him. As their ride ends at Del Perro Pier, it is revealed that Tracey was hanging out with some pornstars offshore, causing Michael to go into a rage and jump off the pier.
Mission Appearances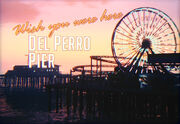 GTA V
GTA Online
Places of Interest
Businesses
Rides
Trivia
Gallery
See Also