Del Perro Pier Beach Maintenance Department
Talk

0
Share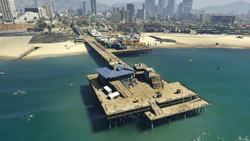 The Del Perro Pier Beach Maintenance Department is the department responsible for maintaining Del Perro Beach and has its main headquarters located on the Del Perro Pier in Del Perro, Los Santos. Its main building is located on Magellan Avenue and operates security cameras in the area. At the back of the property is a Xero gas tank and an eleven-space parking lot, with various construction equipment taking up some of the room.
Ad blocker interference detected!
Wikia is a free-to-use site that makes money from advertising. We have a modified experience for viewers using ad blockers

Wikia is not accessible if you've made further modifications. Remove the custom ad blocker rule(s) and the page will load as expected.