"Because man's first instinct when he sees an area of natural beauty is to burn through it as fast as he can churning emissions into the atmosphere and leaking oil and gas into the water, here's a Seashark race through the Zancudo Wetlands. Try to avoid getting beached on the tight turns."
―-Race description
Delta V is a Water Race featured in Grand Theft Auto Online. It is available for up to 8 players. Players must race Seasharks from under the Fort Zancudo access bridge to under the Great Ocean Highway bridge and back up the lagoon to the finishing point half way back.
Map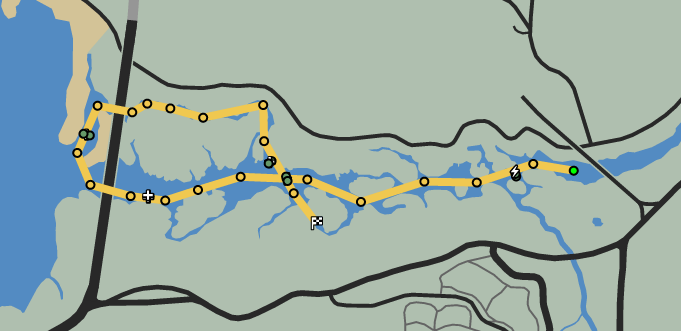 Gallery
Trivia
Ad blocker interference detected!
Wikia is a free-to-use site that makes money from advertising. We have a modified experience for viewers using ad blockers

Wikia is not accessible if you've made further modifications. Remove the custom ad blocker rule(s) and the page will load as expected.