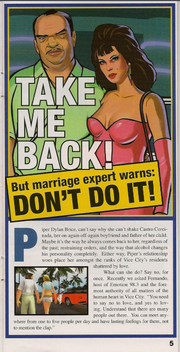 Diaz's girlfriend is an unnamed character appearing in Grand Theft Auto: Vice City Stories. She was presumably cut but she appeared in one of Ricardo Diaz' artwork. She was identified as Ricardo Diaz' girlfriend on the Rockstar Social Club. She also appears on a page of the Vice City Inquirer (the instruction manual of GTA Vice City Stories) displaying an article on marriages.
Ad blocker interference detected!
Wikia is a free-to-use site that makes money from advertising. We have a modified experience for viewers using ad blockers

Wikia is not accessible if you've made further modifications. Remove the custom ad blocker rule(s) and the page will load as expected.