"High fashion at its very highest. For those who are willing to spend a lot of money to cover up their inadequacies. Fashion never cost so much"
— GTA San Andreas Website.
Didier Sachs is a small, high end, and rather expensive clothing store first seen and used in Grand Theft Auto: San Andreas. The only store in the state is located in Rodeo, Los Santos. It is based upon the real-life Louis Vuitton fashion. Didier Sachs becomes open for business upon the completion of the mission Saint Mark's Bistro. The store and its interior is rather small compared to other accessible clothing stores.
The store appears in Grand Theft Auto IV,  Grand Theft Auto: Chinatown Wars and Grand Theft Auto V, although it cannot be entered. Pedestrians can be seen wearing Didier Sachs brand clothings.
Items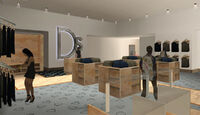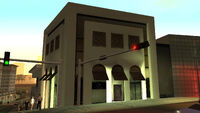 In GTA San Andreas, the player can buy items from Didier Sachs.
Torso
| Item | Respect % + | Sex Appeal % + | Price |
| --- | --- | --- | --- |
| Tweed Jacket | 25 | 25 | $5,500 |
| Red Jacket | 23 | 25 | $4,000 |
| Blue Jacket | 22 | 25 | $3,000 |
| Yellow Jacket | 25 | 25 | $6,000 |
| Tuxedo | 20 | 25 | $7,000 |
| Green Jacket | 25 | 15 | $5,500 |
| Letterman Top | 15 | 5 | $1,525 |
Legs
| Item | Respect % + | Sex Appeal % + | Price |
| --- | --- | --- | --- |
| Red Pants | 9 | 10 | $2,000 |
| Blue Pants | 9 | 10 | $2,500 |
| Yellow Pants | 10 | 10 | $4,000 |
| Tweed Pants | 10 | 9 | $3,000 |
| Tuxedo Pants | 9 | 10 | $3,000 |
| Green Pants | 10 | 6 | $1,500 |
Shoes
| Item | Respect % + | Sex Appeal % + | Price |
| --- | --- | --- | --- |
| Black Shoes | 5 | 5 | $2,500 |
| Brown Shoes | 5 | 5 | $1,100 |
| Spats | 3 | 5 | $350 |
Chains
| Item | Respect % + | Sex Appeal % + | Price |
| --- | --- | --- | --- |
| Cross Chain | 2 | 2 | $5,000 |
| Dollar Chain | 2 | 2 | $2,000 |
Watches
| Item | Respect % + | Sex Appeal % + | Price |
| --- | --- | --- | --- |
| Gold Crowex | 3 | 3 | $8,000 |
| Silver Crowex | 3 | 3 | $5,000 |
Shades
| Item | Respect % + | Sex Appeal % + | Price |
| --- | --- | --- | --- |
| Black Shades | 1 | 2 | $600 |
| Black Rim | 2 | 2 | $800 |
Hats
| Item | Respect % + | Sex Appeal % + | Price |
| --- | --- | --- | --- |
| Dark Trilby | 3 | 2 | $300 |
| Light Trilby | 3 | 2 | $300 |
| Black Derby | 1 | 2 | $500 |
| Red Derby | 2 | 3 | $600 |
| Blue Derby | 2 | 2 | $600 |
| Yellow Derby | 3 | 2 | $700 |
| Green Derby | 3 | 2 | $550 |
| Gray Boater | 3 | 2 | $800 |
| Black Boater | 3 | 2 | $700 |
Locations
GTA III Era
San Andreas
GTA IV Era
Liberty City
Trivia
Gallery
See also