Discount Kitchen Supplies
Talk

0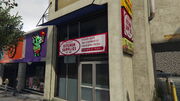 Discount Kitchen Supplies is an inaccessible kitchenware store located opposite Croq-A-Hoop in Vinewood, and on Hawick Avenue in Burton, Los Santos. According to a sign at the entrance, the business sells kitchen units and equipment at reduced prices. Pickups are available at the rear of the building.
Trivia
According to signage, the business was established in 1981.
The second story of the two-story complex is named Kushy Farmacy.