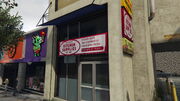 Discount Kitchen Supplies is an inaccessible kitchenware store located opposite on Hawick Avenue in Burton, Los Santos in Grand Theft Auto V.
According to a sign at the entrance, the business sells kitchen units and equipment at reduced prices. Pickups are available at the rear of the building.
Trivia
According to signage, the business was established in 1981.
The second story of the two-story complex is named Kushy Farmacy.
Ad blocker interference detected!
Wikia is a free-to-use site that makes money from advertising. We have a modified experience for viewers using ad blockers

Wikia is not accessible if you've made further modifications. Remove the custom ad blocker rule(s) and the page will load as expected.