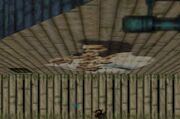 Disgracelands is a zone in the Residential District in Grand Theft Auto II.
Location
Disgracelands is located in the south of the Mobile RV Park. You can find Billy Bob Bean's Country Club there. You can only enter this zone by jumping over fences with a car. For example, you have to do that during the mission "Operation Z!" to steal Bean's red limousine.
Pickups
Vehicles
Trivia
The name alludes to Graceland, Elvis's property.
Ad blocker interference detected!
Wikia is a free-to-use site that makes money from advertising. We have a modified experience for viewers using ad blockers

Wikia is not accessible if you've made further modifications. Remove the custom ad blocker rule(s) and the page will load as expected.