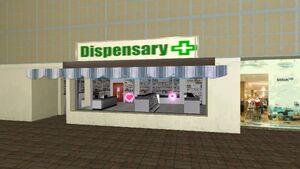 Dispensary is a drug store in Grand Theft Auto: Vice City. It is located in Vice Point, north of the El Swanko Casa safehouse and in Hoarmont Avenue, Downtown, just front of the The Well Stacked Pizza Co.. The store has an interior with health and adrenaline pickups. The store can be robbed by the player.
Gallery
Ad blocker interference detected!
Wikia is a free-to-use site that makes money from advertising. We have a modified experience for viewers using ad blockers

Wikia is not accessible if you've made further modifications. Remove the custom ad blocker rule(s) and the page will load as expected.