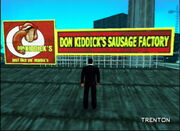 "Just like yo' mama's."
―Motto
Don Kiddick's Sausage Factory was a factory in the district of Trenton in Portland Island, Liberty City. Its motto is, quite humorously, "Just like yo' mama's". It would later close down and become the Bitch'n' Dog Food Factory, as seen in 2001, the setting of Grand Theft Auto III.
Trivia
The name Don Kiddick is presumably a lewd pun on donkey dick.
Gallery
Ad blocker interference detected!
Wikia is a free-to-use site that makes money from advertising. We have a modified experience for viewers using ad blockers

Wikia is not accessible if you've made further modifications. Remove the custom ad blocker rule(s) and the page will load as expected.