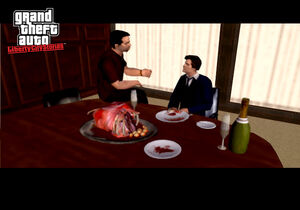 Donald Love's Apartment is a location featured briefly in Grand Theft Auto: Liberty City Stories.
Role
The apartment is the Torrington-based luxury home of real estate magnate Donald Love when Toni Cipriani first meets him during the game. It is out of this apartment that Love gives some of his first missions to Toni. When the location is featured, only the dining room is seen, and it is in this dining room where an infamous scene takes place, in which Love is seen having what appears to be a human torso for dinner.
After Love loses the election and goes broke, he is forced to sell the apartment, moving into a flophouse in Pike Creek.
Mission Appearances