---
This article is a disambiguation page for Downtown
The following is a list of links to pages that might share the same title.
Please follow one of the disambiguation links below or search to find the page you were looking for if it is not listed. If an internal link led you here, you may wish to change the link to point directly to the intended article.
---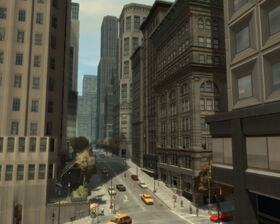 Downtown is the city core or central business district in a number of cities in the Grand Theft Auto series. The district is characterized by high rise office buildings, high end clothing stores and various company headquarters. Banks are also a common sight as well as a variety of food options. Stock brokers, businessmen and entrepreneurs are the people found in downtown in addition to tourists.
List of Downtowns in the Grand Theft Auto series
Gallery
Ad blocker interference detected!
Wikia is a free-to-use site that makes money from advertising. We have a modified experience for viewers using ad blockers

Wikia is not accessible if you've made further modifications. Remove the custom ad blocker rule(s) and the page will load as expected.