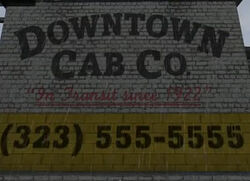 Downtown Cab Co. is a taxi company in Grand Theft Auto V and Grand Theft Auto Online.
The company operates in Downtown Los Santos. In the game, each protagonist has the number of the company and can call for a cab to pick them up.
The Downtown Cab Co. can be purchased by Franklin for $200,000. The Downtown Cab Co. generates $2,000 per week after the initial purchase and all cab rides are free for Franklin.
Gallery