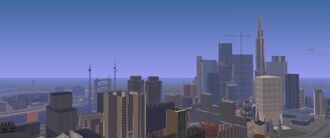 Downtown Staunton is a south area of Staunton Island, located south of the Callahan Bridge are the districts of Torrington and Bedford Point. Both are home to Staunton Island's massive skyscrapers and aimed at modeling of what is a mixture of Downtown and Midtown Manhattan today.
Overview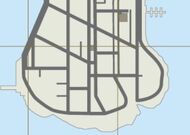 Downtown Staunton is the financial center of Staunton Island where most well-known financial companies are located, such as Love Media whose headquarters can be found in Bedford Point. The Jefferson Street Credit Union Building, the tallest building in the city, is the corporate headquarters of the Jefferson Street Credit Union, a major credit company in the city, which shares the area with Morningstar Industries, a company not well known, but remarkable for its headquarters in Torrington. The FBC Financial Group, also an important financial group in 2001, stood out for having founded the Porter Tunnel located on the third tallest building in the city at the center of Torrington, together with the AMCo. Petroleum Company, a major oil company. The Police Department of Liberty City is also influenced in the area known for its headquarters located in front of building 366. Another point of interest is the headquarters of the FBI, as well as another unnamed building in the form of an obelisk that is the counterpart of New York City´s Empire State Building.
Districts
The area has only two districts:
Bedford Point: Being a district also filled with financial high-rises, Bedford Point is located in the southeast part of Staunton Island and is the location of a Times Square-like intersection just south of the main boulevard that leads to the Callahan Bridge. Bedford Point is home to the LCFR Studio, the city Cathedral, City Courthouse, and the Liberty Tree Offices. Phil Cassidy's Fully Cocked Gun Shop (Liberty City Stories) is located between Bedford Point and Torrington.
Torrington: At the southeast corner of the Island is Torrington, which is aimed at being more like Manhattan's Financial Center. Torrington is home to landmarks like City Hall, the Yakuza-run Kenji's Casino and others.
See Also