You may be looking for Dwayne Forge in Grand Theft Auto IV, or Dwayne Thorn from Grand Theft Auto: Vice City Stories.

Dwaine, also spelt Dwayne[1], is a character in Grand Theft Auto series who appears as a supporting character in Grand Theft Auto: Vice City and Grand Theft Auto: San Andreas.
Dwaine is a mechanic who can normally be found with his friend Jethro.
Dwaine was voiced by Navid Khonsari.
Biography
1980s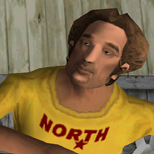 In
1986
, Dwaine andside in
Vice City
and hang out at the Boatyard and he appears during the purchase of the
Boatyard
, though unused audio file suggest he and Jethro also appeared in
The Fastest Boat
in the beta. When
Tommy Vercetti
buys the Boatyard
[2]
it is presumed that Dwaine, along with Jethro, leave Vice City and head towards
San Andreas
.
By 1989, Dwaine and Jethro are in San Fierro and eventually meet The Truth at the '89 San Fierro Love In and have become friends with The Truth whom they bought drugs from.
1992
By 1990, Dwaine soon began running a hot dog van [3] until 1992, when he is recruited by Carl Johnson to work at his garage as a mechanic[4]. Dwaine is mostly seen with Jethro, working on several cars in the garage.
Mission appearances
GTA Vice City
GTA San Andreas
References