The Bohan Line is a LTA train line that runs through Bohan in Liberty City in Grand Theft Auto IV.
On its way through Bohan, the trains will cross the Humboldt River twice, in connection to Algonquin. Between San Quentin Avenue Station and Frankfort High Station the trains run over a railway bridge south of the Northwood Heights Bridge . Between Frankfort Low Station and Windmill Street Station the trains run underneath the river through a tunnel north of the Northwood Heights Bridge.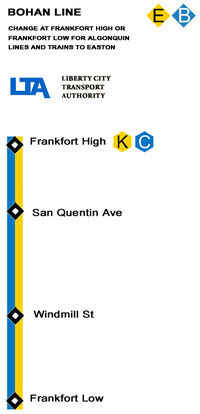 Stations
Listed clockwise (Route E):
Ad blocker interference detected!
Wikia is a free-to-use site that makes money from advertising. We have a modified experience for viewers using ad blockers

Wikia is not accessible if you've made further modifications. Remove the custom ad blocker rule(s) and the page will load as expected.