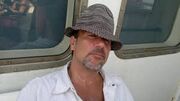 Ed McMann (born in Boston, Massachusetts) is an American music director, voice actor, disc jockey and radio personality who provided the voice of Cliff Lane, the co-host of Lips 106 in Grand Theft Auto: Liberty City Stories and co-host of Self Radio in the PC edition of Grand Theft Auto V. Mcmann also did a commercial voice in Grand Theft Auto: San Andreas, the Fever 105 male imager and a commercial announcer for the Maibatsu Thunder sports car in Grand Theft Auto: Vice City.
External Links
Ad blocker interference detected!
Wikia is a free-to-use site that makes money from advertising. We have a modified experience for viewers using ad blockers

Wikia is not accessible if you've made further modifications. Remove the custom ad blocker rule(s) and the page will load as expected.