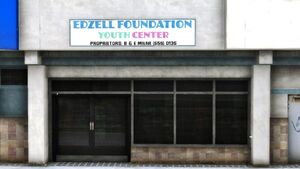 The Edzell Foundation Youth Center is a youth club featured in Grand Theft Auto V located in Strawberry Plaza, Strawberry Avenue, Strawberry. The club is probably destined to prevent criminality among the youth within the neighborhood. The proprietors of the center are two individuals, likely spouses: B. and E. Milne.
Devin Weston had a speaking engagement at the center a few years prior to the events of Grand Theft Auto V.
Trivia
The Milnes are possibly named after A. A. Milne, creator of Winnie the Pooh.
Ad blocker interference detected!
Wikia is a free-to-use site that makes money from advertising. We have a modified experience for viewers using ad blockers

Wikia is not accessible if you've made further modifications. Remove the custom ad blocker rule(s) and the page will load as expected.