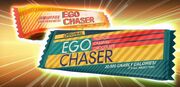 "It's all about you"
— Brand slogan
Ego Chaser Energy Bars are chocolate bars featured in Grand Theft Auto V.
DescriptionEdit
The brand sponsors sporting events in Los Santos, San Andreas, mainly the triathlons that the main characters may take part in. Ego Chaser Energy Bars are listed on the BAWSAQ, and have a website 'www.egochaserenergybar.com', where the location of the triathlons can be seen. The player can consume Ego Chaser bars to get a small health boost. They cost $2 and can be found in 24/7, Limited Service and Rob's Liquor stores.
Original with 20,000-gnarly calories.
Carbocide with 40,000-alen sugar calories.
American Butter Peanut
Tropical Caramel Chocolate
Milk Chocolate
TV CommercialEdit
ReferencesEdit