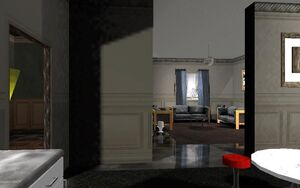 Name:
El Corona Safehouse
Price:
$10,000
Location:
The southwestern corner of El Corona, Los Santos, right on the border of Verdant Bluffs, near Los Santos International Airport and Cesar Vialpando's home.
Garages:
1 (2 cars but is able to store 3)
Helipad:
No
Stories:
1
Interior Appointments:
Modest
Previous Possessor:
Unknown
Info:
Cars randomly spawn when leaving the street even if none are parked in the houses, in some cases, more than the street can hold.

Exiting the safehouse. The game dubs the area wrongly as Verdant Bluffs.

From this safehouse, the player can easily start the mission High Stakes, Low Rider.