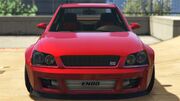 Endo is an automative-based manufacturer appearing in Grand Theft Auto IV and Grand Theft Auto Online.
Description
The company appears on the intercooler of the Sultan RS, suggesting they manufacture intercoolers, more specifically for Karin.
The modifications available for the grille of the Sultan RS in GTA Online also suggest they manufacture intercooler fans installed in front of the intercooler.
It is unknown who the company are based on, however their appearance on the front of the intercooler makes it likely they are based on Forge, Airtec Cooling or APS.
Gallery