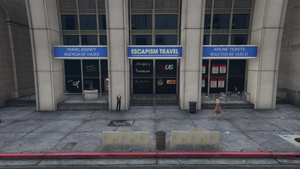 Escapism Travel is a travel agency featured in Grand Theft Auto IV and Grand Theft Auto V. In GTA V the company has a store on Elgin Avenue in Legion Square, Los Santos. The agency advertises and sells Adios Air, Air Emu, Caipira Airways, FlyUS and Herler plane tickets to their customers. The store is not enterable and the business plays no role in the storyline. However, there is a usable ATM next to the main entrance.
The travel agency is located on the ground floor of an unnamed white skyscraper, based on the real life City National Bank building, a 24-story, 348 ft (106 m) building in Downtown Los Angeles.
In GTA IV the business owns a store located on the corner of Albany Avenue and Quartz Street, Lancaster, Algonquin.
Gallery