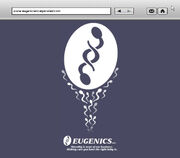 eugenicsincorporated.com is a website in Grand Theft Auto IV. It is the official website for Eugenics Incorporated. It has detailed information on the company, its history, and its purpose. People visiting the website can order a custom baby complete with desired features.
The logo appears to be two sperm cells spiraling around each other. 
Ad blocker interference detected!
Wikia is a free-to-use site that makes money from advertising. We have a modified experience for viewers using ad blockers

Wikia is not accessible if you've made further modifications. Remove the custom ad blocker rule(s) and the page will load as expected.