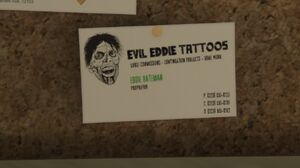 Evil Eddie Tattoos is an unseen tattoo shop in Grand Theft Auto V operating in Los Santos. It is owned and likely founded by Eddie Bateman. Business cards for it can be seen around various barber shops in San Andreas.
Ad blocker interference detected!
Wikia is a free-to-use site that makes money from advertising. We have a modified experience for viewers using ad blockers

Wikia is not accessible if you've made further modifications. Remove the custom ad blocker rule(s) and the page will load as expected.