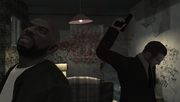 An Execution is a feature in the Grand Theft Auto series in which a small cutscene plays out when the player kills a specific character (generally with a pistol, although there are exceptions) at the appropriate time. If the aiming reticule is flashing red while aimed at the target, an Execution scene will occur; where the player aims on the victim's body (head, chest, leg, etc.) makes no difference. Also, it isn't necessary to use executions; players can still attack normally. Executions also briefly appear in Grand Theft Auto V.
Every eligible character has a predetermined cutscene, described below.
---
---
List of Executions
Grand Theft Auto: Vice City
Grand Theft Auto: San Andreas
Grand Theft Auto: Liberty City Stories
Grand Theft Auto IV Executions
The Lost and Damned Executions
The Ballad of Gay Tony Executions
Grand Theft Auto V Executions
Notes
External links
Ad blocker interference detected!
Wikia is a free-to-use site that makes money from advertising. We have a modified experience for viewers using ad blockers

Wikia is not accessible if you've made further modifications. Remove the custom ad blocker rule(s) and the page will load as expected.