Exotic Exports are a set of side tasks for Brucie Kibbutz in Grand Theft Auto IV. They become available to the player after completion of the mission "Logging On".
Overview
Brucie will send Niko Bellic various emails, which can be read at any TW@ Internet Café, or any other location with an accessible computer. The mission will start as soon as Niko exits the computer after the email is replied to positively, the vehicle will be shown on the map.
All of these follow the same basic premise: find the vehicle Brucie requests, steal it, and bring it to his lockup in East Hook in Broker. On occasion, stealing the vehicle will grant the player a two star wanted level, as well as a few confrontations with the owner(s) or occupants. In total there are ten vehicles to steal. Note that the locations of the cars aren't consistent, and will differ each time the player plays the game. Also the more damaged the targeted vehicle is, the less the player will receive on delivery, unless a Pay 'n' Spray is used to have the vehicles fixed.
Aside from money, every successful delivery increases Brucie's friendship by 1% and respect by 3%.
Vehicles
The vehicles required are:
Video Walkthrough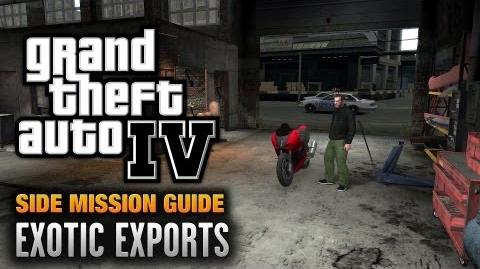 See also