"A superfast luxury tourer in the European tradition, the F620 looks and feels as good on the open road as it does illegally parked outside known paparazzi haunts."
―TBoGT Official website.
The Ocelot F620 is a two door grand tourer featured in The Ballad of Gay Tony and Grand Theft Auto V.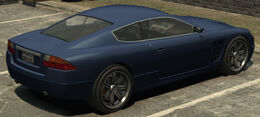 Design
The F620 is largely based on the Maserati GranTurismo due to its greenhouse area,front and sides(except the vents) with the headlights of a Maserati QuattroPorte, featuring the front fascia and overall body shape of a Maserati GranTurismo, the rear fascia of a second generation Jaguar XK. The F620 is additionally similar in appearance to the Super GT, and as they both share design cues from the GranTurismo; the F620 also shares the Super GT's interior, including sport seats finished in black leather, aluminum-finished center console and timepiece, and also the Super GT 6-speed gated shifter. The side vents of the F620 are also similar to those of the Mercedes SLR McLaren.
Although the car lacks any badging, billboards in Star Junction suggest that its manufacturer is Ocelot, which seems to be the GTA rendition of Jaguar, since both names are species of cat. As a nod to Jaguar, the F620 can be painted in a dark non-metallic green, or "British Racing Green".
Performance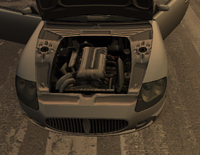 The engine of the F620 is a 6.0L Turbo V10 that is incorrectly modeled in the game as a Turbo Inline-4. This is apparent by the high RPM range and power delivery from the engine. 
The F620 occasionally backfires excess fuel when shifting through its six gears, a trait shared by the Infernus, Banshee, Buffalo, Sultan RS and Bullet GT. This grand tourer possesses a top speed of 204 mph (328 km/h) and accelerates from 0-60mph in 6.5 seconds. The F620 is prone to oversteer, much like its sister car, the Super GT, although its steering feels lighter and more responsive. The suspension is low and quite firm, and the braking is very good, with ABS as standard. The car accelerates rapidly, and has overall straight-line performance similar to that of the Super GT, Turismo, Infernus, and other supercars.
Statistics
Acceleration
(0 - 60mph / 0 - 100km/h)
Top Speed
(mph / km/h)
Engine Details
(Layout/Type/Decal Detail)
Drivetrain
(AWD / FWD / RWD)
Gears
(Number + Type)
Mass
(Kg / lb)

4.9 seconds

Top Speed (Handling.dat)
n/a
Top Speed (Tested)
n/a

6.0 L Turbocharged V10

Drivetrain (Handling.dat)
n/a
Drivetrain (Tested)
n/a

Gears (Handling.dat)
n/a
Gears (Tested)
n/a

n/a
Mission appearances
The Ballad of Gay Tony
Grand Theft Auto V
Notable owners
Gallery
Trivia
Locations
The Ballad of Gay Tony
Grand Theft Auto V