The FIB Buffalo is a Bravado Buffalo Sports Sedan modified as a Federal Vehicle by the FIB in Grand Theft Auto IV.
Description
Design
The FIB Buffalo is based on the
2006-2010 Dodge Charger Police Package
, and as with most cars some things have been changed and rearranged. Most noticeably the tail lights, headlights and rear license plate have been changed; also the front fascia has some subtle similarities to the 2005–2009 Ford Mustang. Despite the fact there are advertisements of the Buffalo around the city, the civilian version of the car is not available in neither
GTA IV
 or
The Lost and Damned
. However,
The Ballad Of Gay Tony
features both a civilian
Buffalo
and an FIB Buffalo.
As with most Police Vehicles in GTA IV, The FIB Buffalo's Computer System has full access to the LCPD Database, allowing the player to use the car for the Most Wanted and Vigilante side-missions. As with any other public safety vehicle, the player can't listen to civilian radio stations, take the vehicle to a Pay 'n' Spray or Car Wash, or complete missions which involve meeting with criminals.
The FIB Buffalo is only seen in specific missions, or when the player attains a wanted level of at least four stars or activates a Cheat Code.
Performance
The FIB Buffalo's smooth yet potent performance gives it a big-engined, supercharged feel. It has a very torqueful 5.7 liter V8 engine that also provides enough power to out-accelerate most cars in the game. The top speed is relatively high, too, however the 5-speed gearbox may at times feel like it limits this somewhat. The Buffalo provides superb protection from firearm attacks or crash damage. Thanks to RWD, the Buffalo may oversteer in some cases; in others, particularly in high-speed corners, the car neither understeers nor oversteers, and gives a balanced feel that differs from most American muscle cars. This car also rides exceptionally smoothly; when on bumpy/hilly roads, the soft-feeling suspension keeps the car level and at times bounces ever so slightly.
Prominent appearances in missions
Grand Theft Auto IV
The Lost And Damned
The Ballad Of Gay Tony
Trivia

Obtaining it
FIB Buffalo is particularly difficult to obtain, as it has no fixed spawn location, the same way as N.O.O.S.E. Patriot. Getting FIB Buffalo requires set of specific conditions to be met, making it a notable challenge. There are following methods for becoming the owner of FIB Buffalo: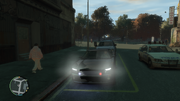 See also