The Fathom FQ 2 is a midsize luxury crossover SUV found in Grand Theft Auto V.
Design
The design of this car appears to be influenced by the North American styling found on the second generation Infiniti FX. The front end features headlamps similar to that of the 2004-2010 Mercedes Benz CLS-class. The tailamps bears resemblance of that Kia Optima (K5).
Performance
The FQ 2 has decent handling and sub-par acceleration, as to be expected. The suspension is more focused on comfort, however the FQ 2 is enjoyable to drive on a winding back-road. Brakes are very weak on FQ 2, and it takes a long distance to come to a stop even from a moderate speed. The top speed is surprising better than a handful of other SUVs out there.
Overview
Acceleration
(0 - 60mph / 0 - 100km/h)
Top Speed
(mph / km/h)
Engine Details
(Layout/Type/Decal Detail)
Drivetrain
(AWD / FWD / RWD)
Gears
(Number + Type)
Mass
(Kg / lb)

5.9 seconds

Top Speed (Handling.dat)
n/a
Top Speed (Tested)
n/a

V6

Drivetrain (Handling.dat)
n/a
Drivetrain (Tested)
n/a

Gears (Handling.dat)
n/a
Gears (Tested)
n/a

n/a
Gallery
Locations
GTA V
GTA Online
Notable Owners
Trivia
The beta name of this vehicle is Lemniscate, the shape of the symbol "infinity", a reference to its real-life automaker. It features chrome elements on the bumpers and window trim. This name was most likely cut because the name is too flashy to its original automaker.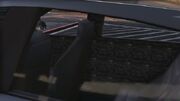 Sometimes, there will be a glitch where the FQ 2 door interior textures will be bugged and replaced by the radio textures.
Its name, most notably when said fast, is a reference to the saying, "F you too!" which translates to, "Fuck you too!"
In Grand Theft Auto Online, the FQ 2 sells for $5,000 at Los Santos Customs.
Oddly, the car shares the grille of the Interceptor.
This is the second shortest named vehicle in the Grand Theft Auto series.The first is the 9F Sportscar.
The default radio station of this vehicle is WorldWide FM.
In Fergie's song 'Glamorous' on Non Stop Pop 100.7, one of the lyrics features the word 'Lemniscate' which is the beta name for the FQ 2.

It might also be one of the reason why Rockstar cuts the beta name.