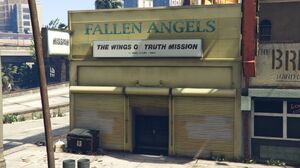 Fallen Angels is an evangelical organization that aims to help needy individuals such as drug addicts, alcoholics and the homeless. The organization operates out of a single location on Elgin Avenue in Strawberry.
Amusingly, despite claiming to provide assistance to alcoholics the Fallen Angels building is located right next to The Brewer's Drop - an alcohol vendor. The building is inaccessible to the player and does not play a role in the storyline.
Ad blocker interference detected!
Wikia is a free-to-use site that makes money from advertising. We have a modified experience for viewers using ad blockers

Wikia is not accessible if you've made further modifications. Remove the custom ad blocker rule(s) and the page will load as expected.