"The only way to ride into the sunset"
— Company slogan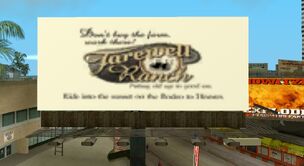 Farewell Ranch is a retirement home advertised in Grand Theft Auto: Vice City. A couple of commercials are aired on the radio and also appear on a billboard in Little Havana.
According to the radio commercials, Farewell Ranch is a Western ranch-style retirement home where the residents work as ranch hands and "sweat and toil until breaking point" before attending one of the home's nightly funerals in the evening. Once one of the residents "dies in [their] boots", their relatives are sent a presentation package VHS along with the resident's cowboy boots.
Ad blocker interference detected!
Wikia is a free-to-use site that makes money from advertising. We have a modified experience for viewers using ad blockers

Wikia is not accessible if you've made further modifications. Remove the custom ad blocker rule(s) and the page will load as expected.