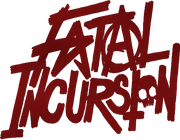 Fatal Incursion is a band mentioned in Grand Theft Auto V. Jimmy De Santa has several posters of this band in his bedroom, on the flyer at the Vinewood Bowl and Wade Hebert can be seen wearing a red and black Fatal Incursion undershirt. The band may be a heavy metal or rap metal band, possibly based on the real-life group Insane Clown Posse.
Unlike the other fictional band in the GTA Universe, Love Fist, none of Fatal Incursion's songs can be heard in the game. 
Their newest album, 'Insertion Required', was released on March 24th, 2013.
Ad blocker interference detected!
Wikia is a free-to-use site that makes money from advertising. We have a modified experience for viewers using ad blockers

Wikia is not accessible if you've made further modifications. Remove the custom ad blocker rule(s) and the page will load as expected.