"Funky soul sounds from the one and only Oliver "Ladykiller" Biscuit, who manned the airwaves of Fever 105 throughout Vice City's most turbulent era. "Ladykiller" put the wiggle in your jiggle, the slide in your stride, and reminded Vice City's denizens that times were never too tough not to party. With classic tracks from Kool & the Gang, Michael Jackson and many others, he's got what you need."
― GTA Vice City Website
Fever 105 is a radio station in Grand Theft Auto: Vice City, hosted by Oliver "Ladykiller" Biscuit (voiced by Julius Dyson). The station plays Modern Disco, Soul and R&B. An album of songs from the station is available separately or as part of the Vice City soundtrack box set.
In Grand Theft Auto: Vice City Stories, it is heavily implied that Fever used to be the Hip-hop/Electro station Fresh FM. This is further evidenced by the fact that Fresh was broadcasted at the same frequency, and its DJ, Luke, was having an angry outburst at Biscuit because he had offered to buy the station.
Playlist
Songs marked with * don't appear in the 10th Anniversary Edition
Video
Trivia
It is implied that this is Lance Vance's favorite radio station as it is the default station for his white Infernus.
Fever 105 is the favourite radio station of the Haitians, alongside Flash FM, which can be heard after the player carjacks their Voodoo.
The songs "All Night Long" and "Behind the Groove" are also played in the Pole Position Club.
"Summer Madness" by Kool & the Gang is featured in the first Grand Theft Auto: Vice City trailer.
"Act Like You Know" by Fat Larry's Band is featured in the PC trailer for Grand Theft Auto: Vice City.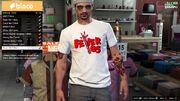 See also