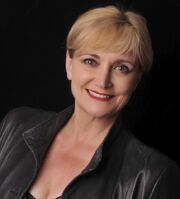 Fiona Ramsay (unknown birth date or place) is an actress who played the role of Patricia Thompson in the TV drama, The Gamechangers.
She is known for her roles in In My Country, The Big Bang Club, and The Three Investigators and the Secret of Skeleton Island.
Ad blocker interference detected!
Wikia is a free-to-use site that makes money from advertising. We have a modified experience for viewers using ad blockers

Wikia is not accessible if you've made further modifications. Remove the custom ad blocker rule(s) and the page will load as expected.