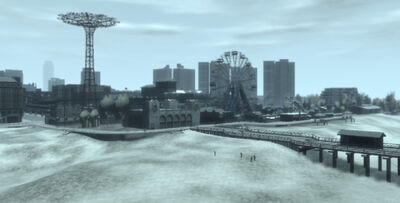 The Firefly Island Beach is a beach in Firefly Island, Broker. It begins at Beachgate and ends at Hove Beach. On the beach is a pier, which is connected to Funland. This beach is very hilly, making it a great spot for stunt jumps. Even though it is the only beach in Liberty City, no one except Tramps will appear on it; even on a sunny day.
Influence
It is based on the Coney Island Beach.
Trivia
Ad blocker interference detected!
Wikia is a free-to-use site that makes money from advertising. We have a modified experience for viewers using ad blockers

Wikia is not accessible if you've made further modifications. Remove the custom ad blocker rule(s) and the page will load as expected.