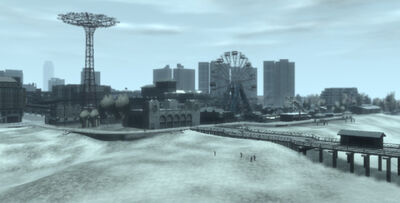 The
Firefly Island Beach
, is a beach in
Firefly Island
,
Liberty City
. It begins at
Beach Gate
 and ends at
Hove Beach
. On the beach is a pier, which is conected to
Funland
. This beach is very hilly, making it a great spot for stunt jumps. Even though it is the only beach in Liberty City, no one except
Tramps
 will appear on it; even on a sunny day.
Trivia
This is one of two beaches in GTA IV (the second being in Westdyke and Leftwood).
For an unknown reason there is a small playground in the middle of the beach.