This article needs more images of:
Infobox Image


You can help by adding some relevant images or discussing changes on the talk page.
Please remove this template when images are added.
Note: Please remember to follow our image policy in naming and licensing before adding images.
"Like every other pilot in LS, you know you can fly a commercial jet under suspension bridges and round Ferris Wheels - now see if you can get your passengers to share your confidence. Drop the oxygen masks and take in the views with this point to point race over some of the most beautiful parts of the state."
―Description
Fleet First is an Air Race featured in Grand Theft Auto Online for the PS4/XboxOne only. It is available for up to 30 players.
This race was added in the initial release of GTA V for 8th generation consoles and has not been made available for PS3 or Xbox 360 versions of the game. 
Map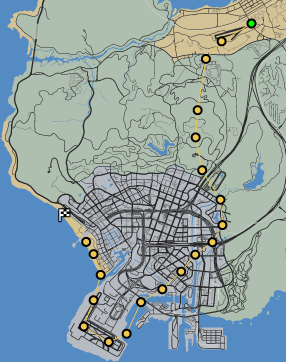 Ad blocker interference detected!
Wikia is a free-to-use site that makes money from advertising. We have a modified experience for viewers using ad blockers

Wikia is not accessible if you've made further modifications. Remove the custom ad blocker rule(s) and the page will load as expected.