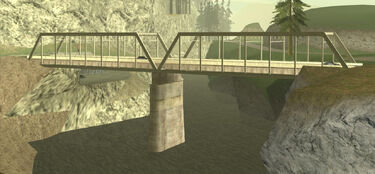 The Flint Bridge is a short truss bridge connecting Flint County with Whetstone in Grand Theft Auto: San Andreas.
Description
The Flint Bridge is one of three major road bridges over Sasquatch Creek, connecting Flint County and San Fierro with Whetstone, the others being Oram Bridge and Whetstone Bridge. Whereas Oram Bridge services the main highway running through southern Flint County, Flint Bridge connects the northern portion of Whetstone, adjacent to Mount Chiliad, with the northern portion of Flint County, near Leafy Hollow, The Farm and the Flint County Safehouse. The bridge has a total length of 150 meters.
The bridge is almost identical in design to the Fallow Bridge, however, the Flint Bridge is a few meters shorter and has a taller foundation.
Collectibles
One Oyster located under the bridge.
Ad blocker interference detected!
Wikia is a free-to-use site that makes money from advertising. We have a modified experience for viewers using ad blockers

Wikia is not accessible if you've made further modifications. Remove the custom ad blocker rule(s) and the page will load as expected.