Ad blocker interference detected!
Wikia is a free-to-use site that makes money from advertising. We have a modified experience for viewers using ad blockers

Wikia is not accessible if you've made further modifications. Remove the custom ad blocker rule(s) and the page will load as expected.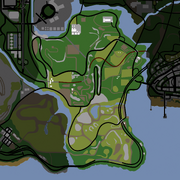 Flint County is a heavily forested region of San Andreas, which appears in Grand Theft Auto: San Andreas. Flint County comprises the southwestern portion of the map, and is connected to the remaining land masses by numerous bridges. To the east of Flint County is Los Santos and Red County, to the north is San Fierro, and to the west is Whetstone. Flint County is the least populated area in San Andreas, yet is one of the largest counties in the state.
Events in GTA San Andreas
---
---
After
Carl Johnson
has spent a while in the countryside,
Frank Tenpenny
shows up again in
Angel Pine
, in the
U Get Inn Motel
, this time to introduce Carl Johnson to
The Truth
, a weed-growing hippie that provides illicit narcotics to the corrupt
C.R.A.S.H.
officers. Carl, ordered by Tenpenny to pay The Truth the cash that is owed to him for a recent transaction, is indentured into service to The Truth in order to pay off the "debt". His first task is to
steal
a
combine harvester
from a
group of right-wing fanatics
occupying
The Farm
in northern Flint County, and return it to The Truth. Eventually, Carl must assist The Truth in
destroying a large crop of marijuana
that has been discovered by the authorities. Immediately after destroying the crops and
shooting down
the
patrolling helicopter
, the two men drive to
San Fierro
in The Truth's hippie bus nicknamed the
Mothership
, with three tons of marijuana in tow, opening the next chapter in the storyline.
Locations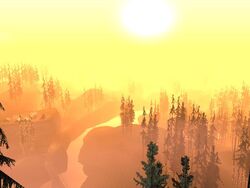 Notable Residents
Trivia