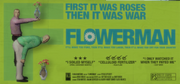 Flowerman is a film advertised in Grand Theft Auto IV. The billboard is a spoof of Zoolander's poster, with two men forming a letter "F" in the same way the Zoolander poster shows a man forming the letter "Z". It cannot be watched by the player.
While listening to The Intelligent Agenda, host Mike Riley is interviewing his guest, actor Brandan Roberts, who is the star of Flowerman.
Ad blocker interference detected!
Wikia is a free-to-use site that makes money from advertising. We have a modified experience for viewers using ad blockers

Wikia is not accessible if you've made further modifications. Remove the custom ad blocker rule(s) and the page will load as expected.