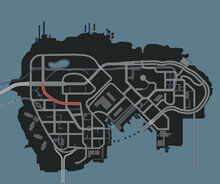 Folsom Way is two-way street in Bohan featured in Grand Theft Auto IV.
Description
It starts at Grand Boulevard and ends at Attica Avenue. The street is notable for its wide curve as well as being surrounded by a run-down neighborhood. Outgoing streets are Drop Street, Wallkill Avenue, Turtle Street, Rykers Avenue and the Lotus Street.
Notable Business
Ad blocker interference detected!
Wikia is a free-to-use site that makes money from advertising. We have a modified experience for viewers using ad blockers

Wikia is not accessible if you've made further modifications. Remove the custom ad blocker rule(s) and the page will load as expected.