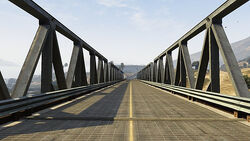 The Fort Zancudo Approach Road is a two-way bridge / road in Blaine County that begins at Route 68 in Great Chaparral and ends at one of the entrances of Fort Zancudo.
The Approach Road has an Ammu-Nation store next to it located on Route 68, which is ironic, as the player might buy armor and ammo here in order to raid the military base.
Gallery
Trivia
The Speed Limit on the Approach Road is 60 M.P.H. as indicated by the Speed Limit decal posted on the truss of the bridge.
Oddly, a majority of the road is actually a bridge going over Lago Zancudo leading to one of the entrances of Fort Zancudo.
Ad blocker interference detected!
Wikia is a free-to-use site that makes money from advertising. We have a modified experience for viewers using ad blockers

Wikia is not accessible if you've made further modifications. Remove the custom ad blocker rule(s) and the page will load as expected.