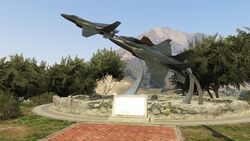 The Fort Zancudo Sculptures (unofficial name) are the notable statues and monuments located just outside the gated entrance to United States Air Force base, Fort Zancudo, along Route 68. One statue has the American flag and the San Andreas state flag above it, while the other depicts three P-996 Lazer fighter jets (using their beta models) attached to curved beams.
The left statue reads: "In memory of the illustrious men of San Andreas who unwillingly gave their lives for their country. July 11, 1974." Behind the statue is a wall with 8 plaques, containing 144 names each (1152 names total), all reading "John Doe".
The right statue reads: "In memoriam: 420 missions; 12,568 sorties; 1,625 killed; 102 laser lost. Two distinguished unit citations. Dedicated June 1998."
Gallery
Trivia
There is a similar sculpture at the Los Santos International Airport, only the planes are civilian aircafts[1].