Vehicle Modifications for GTA SA
Forum page
Ad blocker interference detected!
Wikia is a free-to-use site that makes money from advertising. We have a modified experience for viewers using ad blockers

Wikia is not accessible if you've made further modifications. Remove the custom ad blocker rule(s) and the page will load as expected.
---
This is a vehicle modification for GTA San Andreas forum.
Here is a links to upload a mods:
I don't know how to make a vehicle mods.
Anyone can make and upload mods for these vehicles that I suggested:
Cars that I needed
Volkswagen Standard Beetle
1986 Peugeot 205 T16 Evo2 Rally car
Audi Sport Quattro S1 Group B Rally car
Cadillac Cien
MG Metro 6R4 Rally car
Lancia 037 Rally car
You must have permission for making and upload a mod. But remember, if you find any bug, fix and update a mod. Once the modification is completed and fixed a bug, upload them on GTAInside.com, GTAWorldmods.de or GTAGaming.com.
Sorry for my bad English, I'm Malaysian. --Videogamer13 10:03, September 26, 2010 (UTC)
These vehicles modifications that I already downloaded:
1986 Ford RS200 rally car
Citroen Xsara rally car
Volkswagen Golf GTI
1986 Lancia Delta S4 Rally car
BMW M3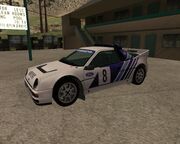 --
Videogamer13
10:17, September 26, 2010 (UTC)
Can anyone make a vehicle mod for 1986 Peugeot 205 T16 Evo2 rally car for GTA SA? --Videogamer13 16:45, September 28, 2010 (UTC)