This article or section contains insufficient information and is considered as a Stub. You can help GTA Wiki by expanding it as much as you can.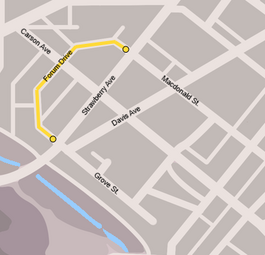 Forum Drive is a street in Grand Theft Auto V.
Forum Drive is based on Coliseum Street in the Baldwin Hills area and runs parallel to Strawberry Avenue from Chamberlain Hills in the west and into Strawberry to the east, and is bisected by Carson Avenue. The west side (below Carson) mostly consists of housing projects in Chamberlain Hills, while the east side hosts small, single-family homes and small businesses as well as the Children of the Mountain Fellowship Church and Franklin's first Safehouse.
This street is known as the The Families territory.