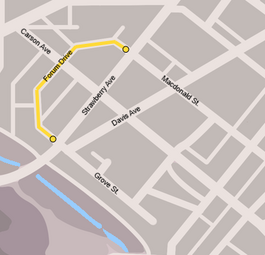 Forum Drive is a small street located in Chamberlain Hills, featured in Grand Theft Auto V.
Description
Forum Drive runs parallel to Strawberry Avenue from Chamberlain Hills in the west and into Strawberry to the east, and is bisected by Carson Avenue. The west side (below Carson Ave) mostly consists of housing projects and apartments such as Crystal Heights and All Swell in Chamberlain Hills, while the east side hosts small, single-family homes and small businesses as well as the Children of the Mountain Fellowship and Franklin's first Safehouse.
Influence
Forum Drive is based on Coliseum Street in the Baldwin Hills area.
Interestingly the shape of the street is very similar to South 3rd and 4th Avenues in Inglewood, California which are close to Crenshaw Boulevard and the Los Angeles Forum just as Forum Drive is close to Strawberry Ave and the Maze Bank Arena.
Gang Control
This street is known as the The Families territory. The eastern side (Strawberry side) is home for the Forum Drive Families set, while the western side (Chamberlain Hills side) is home for the Chamberlain Gangsters set, however, after the storyline and main hood missions a lot more Ballas are spotted in the area.