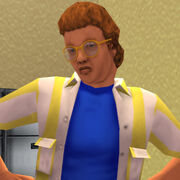 Frankie is a minor character in Grand Theft Auto: Vice City Stories, serving as Reni Wassulmaier's assistant for his/her advertising company based in InterGlobal Films studios.
Frankie is depicted with an overly effeminate personality, which seemingly clicks well with Reni's behavior. However, Frankie is later fired for not "spanking" Reni and satisfying "his" pleasure. Even though Frankie is told that he is fired, he is seen again with Reni watching an on set rehearsal during the mission, "Say Cheese".
He was voiced by Garth Kravits.
Trivia
Frankie may be a reference to the band "Frankie Goes To Hollywood", whose members are gay, seeing as he works for a movie studio, and is somewhat gay.
Ad blocker interference detected!
Wikia is a free-to-use site that makes money from advertising. We have a modified experience for viewers using ad blockers

Wikia is not accessible if you've made further modifications. Remove the custom ad blocker rule(s) and the page will load as expected.